. [menu_anchor name="Services"]
What We Do
We are a full service florist and we offer a 100% satisfaction guarantee on all arrangements we deliver locally and send globally. We answer our phones 24 hours a day 7 days a week and offer many options for payment via the website or over the phone. We are very happy that you found us and hope we can aid in helping you find the perfect floral gift.
We have two locations however please call first if you need an arrangement because we do not have premade arrangements to pick from out of a display cooler. We have come to realize that this prevents you the consumer from ever getting an arrangement that has been made up for days.
Click here for information about our shop policies
[menu_anchor name="Location"]
Our Locations
Palm Coast Location
15 Hargrove Lane, anorexia Palm Coast, Florida, 32137
[/map]
Easiest way to find us is take Palm Coast parkway til it hits US1. Take a right and go 1/4 mile and take left on Hargrove Grade. Once on Hargrove Grade drive 3/4 a mile then take a left on Hagrove Lane. Drive to end of cul-de-sac and take right to enter our complex. We will be the third building on left.
St Augustine Location
71 S. Dixie Hwy#2, St Augustine, Florida, 32084
[/map] [menu_anchor name="Hours"]
Our Store Hours
Monday 9:00AM to 4:30PM
Tuesday 9:00AM to 4:30PM
Wednesday 9:00AM to 4:30PM
Thursday 9:00AM to 4:30PM
Friday 9:00AM to 4:30PM
Saturday 9:00AM to 11:00AM
Sunday 9:00AM to 11:00AM
We also answer the phone even before and after normal hours so don't hesitate to call us at 800-636-1336
[menu_anchor name="Coverage"]
Places We Deliver (and their delivery charges)
The following is a list of places we deliver and their delivery charge in parenthases
| City of Palm Coast ($7.00) Town of Marineland ($10.00) City of St. Augustine ($10.00) City of St. Augustine Beach ($10.00) Flagler Estates ($10.00) Hammock ($9.00) Painters Hill ($9.00) St. Augustine South ($10.00) Summer Haven ($10.00) Vilano Beach ($10.00) | City of Bunnell ($9.00) Town of Beverly Beach ($10.00) Espanola ($10.00) Bimini ($10.00) Dupont ($10.00) Korona ($10.00) Codys Corner ($10.00) Vermont Heights ($10.00) Lincolnville ($10.00) World Golf Village ($10.00) | City of Flagler Beach ($9.00) Town of Hastings ($10.00) Favoretta ($10.00) Daytona North ($10.00) Butler Beach ($10.00) Crescent Beach ($10.00) Elkton ($10.00) Flagler Estates ($10.00) St. Johns ($10.00) St. Augustine Shores ($10.00) |
| --- | --- | --- |
[menu_anchor name="Staff"]
Meet Our Staff
[menu_anchor name="History"]
History Of The Village Greenery
1976
The Village Greenery opened for business in June 1976 by Bob and Dorothy Parker. They moved to Palm Coast to retire from retail sales from Parker Brothers Department Store in Hampton, SC. Being one of the first 100 residents of this community they realized they could not just sit around and do nothing. They partnered with two others to start The Village Greenery Inc. Originally the business was a nursery located on Old Kings Road and specialized in landscaping and selling of outdoor plants and gardening supplies. After a few years Bob and Dorothy bought out the other partner's shares. Bob was hired By ITT shortly afterwards to help design and to be dock master for Palm Coast's first Marina.
1978
The Village Greenery opened a second location at the Palm Harbor Shopping Center which had a Publix supermarket and Eckards drugstore. The new location was ideal because it also was the location for the Palm Coast Post Office. You could not park in front of post office but instead park in front of Publix and walk. We were located between the two so we saw a fair amount of foot traffic.

1979
The Village Greenery convinced to enter the floral business by a retired florist James E Scott owner of Scott The Florist Inc in Providence, RI. He, like Bob and Dorothy, moved to Palm Coast to retire. He asked if he could set up a small booth in the garden center to sell flowers and that they would not be disappointed. At this time there was no other florist in Palm Coast. This is the year we joined FTD and Teleflora. Thank You Mr Scott.
1985
Our greenhouses and cabana were burned down in the wild fire that took out 135 homes in Pine Lakes on May 17th. We did not rebuild this location and kept all business at the Palm Harbor Shopping Center. The state has created a park here now called the Graham Swamp Preserve.

1992
Robert Parker, Grandson of Bob and Dorothy, came to work at The Village Greenery.
1993
Robert designs an order entry program responsible for printing all the enclosure cards and still used today to keep records of orders placed at The Village Greenery.
1994
Sunshine Parker, Robert's wife, begins working at The Village Greenery as a floral designer and today still produces the majority of floral arrangements that we deliver today.
1995
In 1995, Robert completes the prestigious FTD Master Florist Manager Certification Program.
1997
TheVillageGreenery.com is created to try to establish an online presence and to be one of the first florist to sell flowers online. In 1999 Society of American Florist published an article on advice for florist who wanted to create their own websites and how to sell flowers online.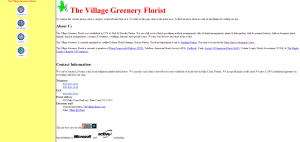 2001
December 18th, 2:30 pm we lost Bob And Dorothy Parker to an automobile accident while they were making a floral delivery in Bunnell.
2005
The Village Greenery Florist is recognized at a Top 1000 florist with Teleflora.
2008
Robert And Sunshine open Palm Coast Wholesale Flowers, a fresh flower wholesaler to provide fresh flowers to The Village Greenery. This is how we today are able to provide farm fresh flowers in our arrangements.
2009
Started photographing all arrangements that we deliver. In 2010 we started publishing these on our Flickr site and in 2013 we began publishing them on this site.
2010
Relocated our main store from the Palm Harbor Shopping Center to our current location at 15 Hargrove Lane. Went from a 1300 sq ft facility to a 2000 sq ft warehouse with a 400 sq ft cooler. Making this move lowered our monthly rent while increasing our storage for floral and hard goods.
2011
Opened a second store at 71 S Dixie Hwy #2, St Augustine, FL. The primary purpose of this location was to expand our delivery span to St Johns County. We felt there was enough quality florist in this area that we were not going to sell flowers from a cooler here, but to take wire and telephone orders for this area. We make deliveries to this area once a day Monday thru Saturday.
2012
PALM COAST FLORIST RECEIVES ESTEEMED RECOGNITION AS AN FTD PREMIER FLORIST
PALM COAST, FL, (FEB 1, 2012) – Robert And Sunshine Parker from The Village Greenery has recently been designated as an FTD Premier Florist. This unique recognition is only available to top quality florists that are a part of the 100 year old FTD florist network. FTD Premier Florists, such as The Village Greenery, provide their customers with quality floral designs and are focused on delivering the highest customer service.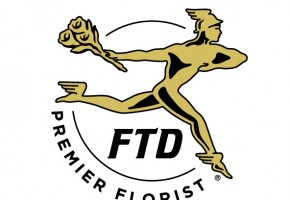 2013
The Village Greenery receives the honor of being recognized as a top 500 FTD Florist.